Provocative article about a PS2 game
I used to enjoy playing with my son,
Shadow of the Colossus
. I agree with the author's argument, that a game like SotC was either a beautiful anomaly in the canon of gaming, or it represented a more evolved iteration of gaming than preceded or followed it. I haven't played it in awhile, but its game-world, its gestalt, has stuck with me: a vast landscape that was almost uncannily realistic -- yet notably alien and foreign, like the way Cronenberg created a subtly alternate universe in his film
eXistenZ
that was recognizable and intuitive, but just oddly different enough to be compelling, surreal, and a little scary. (Christopher Nolan used this technique in the quality mainstream film
Interstellar
, with the three Earth-like planets that the astronauts visited.)
This may look a little cheesy, but there was something about the detail, quietness, vastness, absolute freedom (as the article above's author notes, the game creator didn't give a shit what you did in/with the game, or if you played it at all, or just galloped around anarchistically on your trusty steed through the landscape), and beautiful ruins of the game. I am a big fan of natural light, light through ruins and decayed structures, and the magic/golden hour of the day, which SotC emulated well.
SotC was based on the earlier game ICO, which I haven't yet played.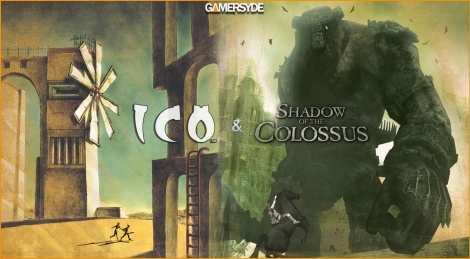 There is a plot and goal of SotC, don't get me wrong -- in fact, it's a very daunting game, and gets harder as it progresses. If you're into finishing/solving/beating the game rather than enjoying the ride, there are a number of beastly, massive colossi to find, battle, and defeat. Though each colossus is intimidating, each has a vulnerable spot, a glowing blue sigil somewhere on its giant body. But there's no time limit, no pressure from the game to go the right way or make progress, and you can just as well ride around in circles on your horse on a majestic bluff as you can beat the colossi. This is what the article's author is talking about: there's no social sharing/bragging aspect -- it's just a well-created, absorbing, epic game that you can while away the hours playing and not interacting with others, in person or online. Granted, if you wander (I think that's your avatar's character name, Wander) too close to a colossus 'hood, you'll have to engage in battle (or run away). The colossi are impressive, each with its own charismatic personality, and your avatar, horse, and comatose princess to awaken are all engaging characters, but the real star of SotC are the landscapes, the crumbling, desolate, medieval structures, the quietude and vastness, the ambience of the weather, the ennui, the way that so much of the game is just wasteland and existential freedom. SotC doesn't try and dazzle you with explosions and sounds and constant stimuli like the crack-esque experience of a kiddie casino (aka arcade) game. SotC is stimulating, but in a more cerebral way. It has all the freedom of Grand Theft Auto without the populated, postmodern, gritty settings and characters. SotC is like a battle game for Buddhists.
I never beat SotC. I got close to the end, but one of the later-stage colossi I couldn't beat. But that's okay, because I loved being in that world. Around that same time, I was playing two other games with my son: RHEM 3, and Cabela's Big Game Hunter Alaska.
Both games are notable, like SotC, for being largely solitary adventures in occasionally hostile but mostly empty, beautiful landscapes, with a lot of anarchistic and existential freedom to do as you please. RHEM is a puzzle game populated with steampunk-esque things to figure out; it's a great combo of the natural and the (abandoned) man-made. Big Game Hunter Alaska is a point-and-shoot, but more than that, too, because of the attention paid to the landscape/setting, and the fact that you could just as easily not hunt things as hunt them. I guess I like abandoned structures, unpopulated areas, decay, nature, and post-human places.